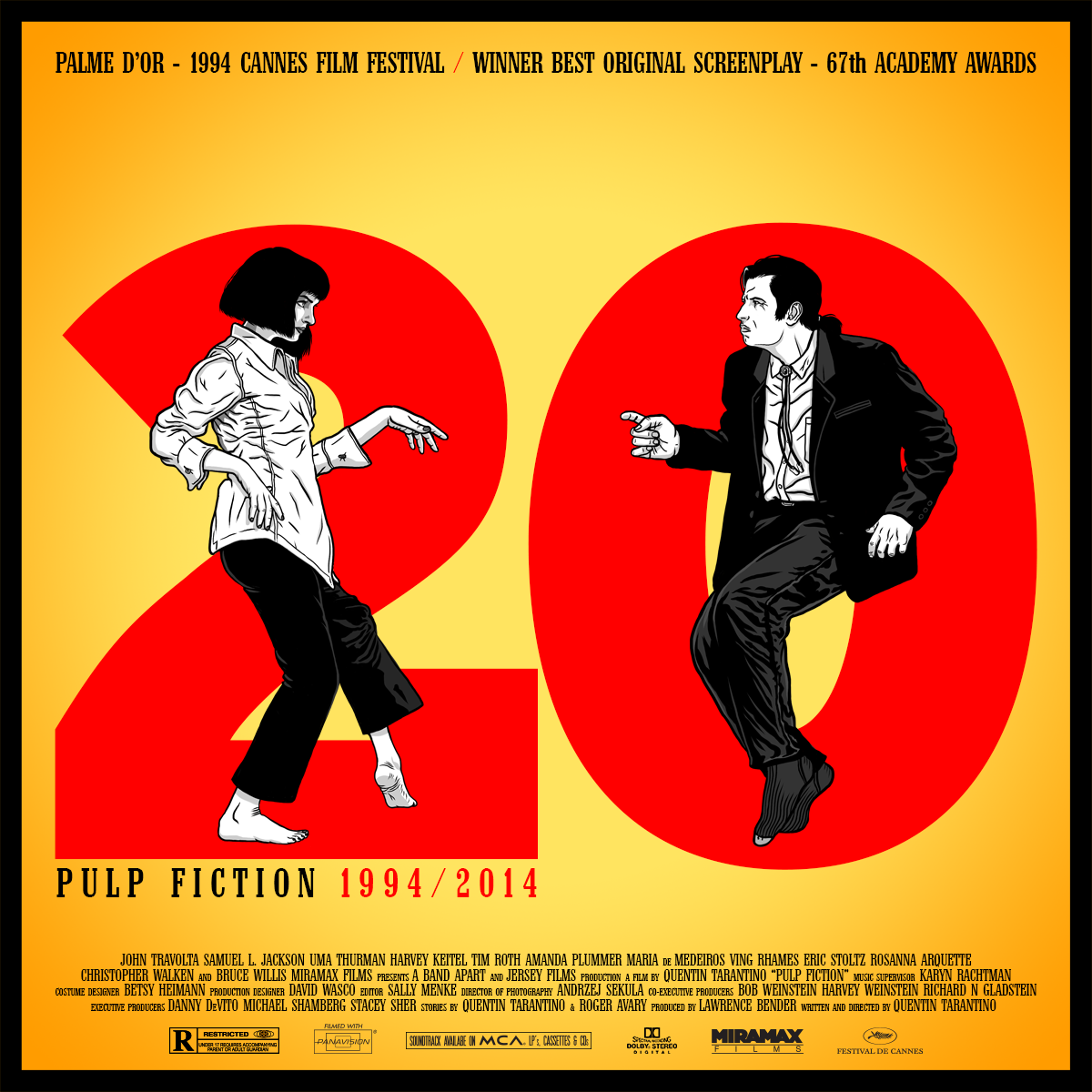 The 90's: we had the end of the Cold War, Hurricane Andrew, Microsoft Windows, Anita Hill vs. Clarence Thomas & his Coke can, let's not forget the O.J. Simpson trial, the Spice Girls, Nirvana, Harry Potter, Millennium parties and the reason I'm writing this…Pulp Fiction.
I wasn't sure how to start this blog, considering that this is one of my favorite movies of all time.  How do you convey such a deep appreciation for a film like Pulp Fiction?  Maybe you enthusiastically show it to your kid (also a highlight from my personal account of the 90's) along with other cult classics such as Heathers and Kids.  Or perhaps you randomly quote the movie at given moments when you're having a milkshake or need to tell a bad joke.  Quentin Tarantino is brilliant, dark, and funny both as a writer and director.  Pulp Fiction's cast is comprised of an equally amazing group of superb actors, including some like Travolta that resurrected their acting careers, and others like Uma whose popularity skyrocketed following this film.  This dark comedy, which is one of the most, if not THE MOST significant film from that era, involves 4 or 5 interconnected story-lines that are presented out of sequence, and lead the viewer on an unforgettable ride.
I couldn't imagine a better way of celebrating Pulp Fiction's 20th anniversary than viewing it at the Blue Starlite drive-in located in Coconut Grove on Monday, August 11th or Wednesday, August 13th at 8 p.m.  The Blue Starlite was recently named the best movie theater by The Miami New Times' Best of Miami 2014.
So pick up a delicious shake and head over to the Blue Starlite for some Tarantino love!